I love everything about smoothies and juices. They're healthy, they give me a daily excuse to eat my fruits and vegetables and they're portable. But most of all, they're fast! I don't know about you, but my whole household could have been up since 5 am, yet somehow, the hours between 8 am and 9 am just vaporize, in a split second. Amiright?!
My sons consume at least one meal and two snacks before 9 am. But me, I'm existing—barely—on a room temperature cup of coffee.
---
With a little bit of prep, and a few minutes to throw it together, you can avoid the "Why do I have such a headache, oh wait I forgot to eat breakfast, again" conversation with yourself.
Enter yummy smoothies! Feel free to get creative and experiment. No combination is a bad one. Smoothies are forgiving, and a great way to use up what you have in your fridge . Bananas about to go bad? Throw them in. Spinach looking wilted? Add a handful. Strawberries starting to turn the day after you bought them (why does this always happen?) Toss them in, too!
Sub things in that you love, or omit things you are on the fence about. If you can't deal with making ONE MORE decision today, here are some of our favorite smoothie recipes:
1. Summer in a cup smoothie
Serving: 2
Cook time: 5 mins
Ingredients:

Instructions:
Add all ingredients to a blender and blend until creamy and smooth, scraping down sides as needed.
Taste and adjust flavor as needed. Add more milk or fruit juice if too thick. Add more frozen banana if not sweet enough. Serve immediately. Freezes well (or make into Popsicles).
2. Berry superfood smoothie bowl
Serving: 1
Cook time: 5 mins
Ingredients:
1 cup mixed frozen berries*
4 ice cubes
Splashes of light coconut milk (enough to get blender moving)
1 tablespoon almond butter
Handful of spinach
Optional: 1 teaspoon acai powder
Optional: maple syrup or sweetener of your choice, to taste
Instructions:
Place the frozen berries, ice cubes, coconut milk, almond butter and spinach in a blender. Add acai powder, if using. Blend until smooth, adding additional coconut milk as needed. (As little as necessary so your smoothie will be thick). Taste and add maple syrup or sweetener of choice, if desired. Blend again.
Pour into two bowls and top with hemp seeds, coconut flakes, blueberries, and dried strawberries.
3. Bobby Flay's layered smoothie
Serving: 4
Cook time: 1 hour
Ingredients:
Mango-Peach:

2 very ripe mangoes, peeled, pitted and diced
2 very ripe peaches, peeled, pitted and diced
1 cup mango or peach nectar
1 cup 2-percent Greek yogurt
Lime juice
Honey
Strawberry-Banana:
2 pints ripe strawberries, hulled and halved
2 tablespoons sugar
2 frozen ripe bananas
1 cup 2-percent Greek yogurt
Lemon juice
Finely diced mango and peach, for garnish
Finely diced mango and peach, for garnish
Finely diced strawberries, for garnish
Instructions:

For the mango-peach smoothie: Add the mangoes, peaches, nectar and yogurt to a blender and blend until smooth. Add lime juice and honey to taste if needed. Pour into a pitcher and refrigerate until very cold.
For the strawberry-banana smoothie: Combine the strawberries and sugar in a bowl and let macerate for 30 minutes in the refrigerator. Add the macerated strawberries and some of the juices, the frozen banana and yogurt to a blender and blend until smooth. Add lemon juice to taste if needed. Pour into a pitcher and refrigerate until very cold.
Fill each glass half way with the mango-peach and then fill to the top with the strawberry-banana. Mix together the finely diced mango, peach and strawberries in a small bowl and top each glass with some of the fruit for garnish.
4. The best green smoothie
Serving: 1
Cook time: 5 mins
Ingredients:

1 cup frozen pineapple chunks
1/2 cup frozen mango chunks
1/2 medium ripe avocado
1 inch knob of ginger, peeled
2 cups organic spinach
1 cup unsweetened almond milk, plus more as necessary
Optional: 1 tbsp hemp seeds or flaxseed meal
Instructions:
1. In a large high-powered blender, add in all ingredients and blend on high for 1-2 minutes or until all ingredients are well combined. If necessary, add in more milk to thin the smoothie and blend again.
5. Blueberry muffin smoothie
loveandlemons
Serving: 1
Cook time: 15 mins
Ingredients:
1 1/2 cups frozen blueberries
3 tablespoons whole rolled oats
3 soft medjool dates
Handful of fresh spinach
1/2 tablespoon fresh lemon juice
1/4 teaspoon cinnamon
Pinch of salt
1 tablespoon Whole Foods Market plant-based fit protein
6 ice cubes
3/4 to 1 cup almond milk or light coconut milk, or as needed to blend
optional garnishes: fresh blueberries, oats, crushed almonds
Instructions:
1. Blend ingredients with a few pieces of ice and ½ cup to ¾ cup almond milk (enough almond milk to get your blender blade moving).
6. Oatmeal smoothie
Serving: 1
Cook time: 5 mins
Ingredients:
1/4 cup old-fashioned oats or quick oats
1 banana, chopped into chunks and frozen
1/2 cup unsweetened almond milk
1 tbsp creamy peanut butter
1/2 tbsp pure maple syrup – plus additional to taste
1/2 tbsp pure vanilla extract
1/2 tbsp ground cinnamon
1/8 tbsp kosher salt
Instructions:
Place the oats in the bottom of a blender and pulse a few times until finely ground. Add the banana, milk, peanut butter, maple syrup, vanilla, cinnamon, and salt.
Blend until smooth and creamy, stopping to scrape down the blender as needed. Taste and add additional sweetener if you'd like a sweeter smoothie. Enjoy immediately.
Easy 5 minute banana smoothie
Serving: 1
Cook time: 5 mins
Ingredients:
1 banana
1/2 orange, peeled and quartered
1/3 cup Greek yogurt
1/4 cup water or milk (dairy or non-dairy)
1 to 2 tsps honey, optional
Instructions:

Roughly chop banana and orange quarters then add to a blender. Top with yogurt and the water (or milk).
Turn blender on and blend until creamy and smooth. Taste then adjust with honey if needed.
If you're looking for something to carry your smoothie in (or share with kiddos), we love these:
Welly traveler
This vacuum-insulated bottle ensures your smoothies don't spill while on-the-go.
EKOBO Bamboo kids cup set
Kiss traditional plastic drinking cups goodbye with these cups made of biodegradable bamboo fiber and a 100% food-grade melamine binder.
Rae's Roots Mama herbal supplement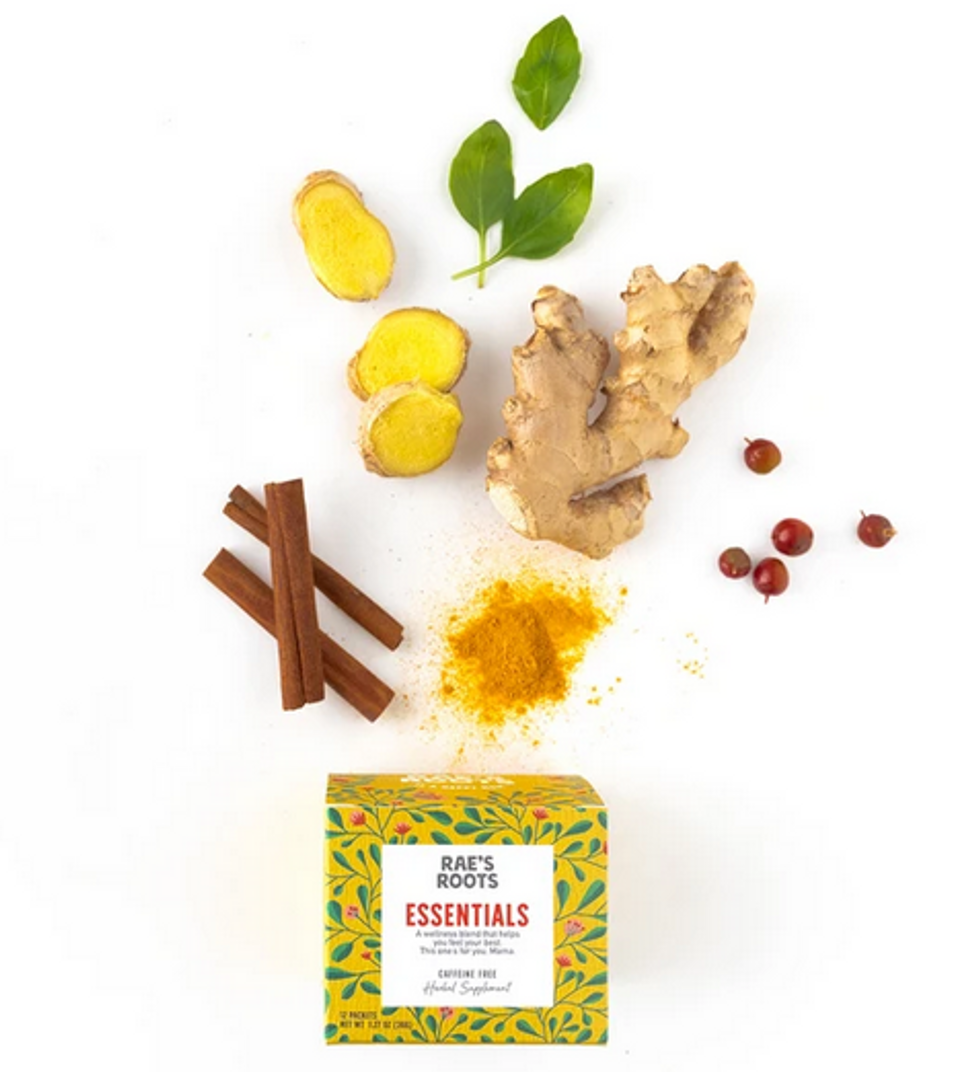 Naturally remove the toxins from your body with this caffeine-free mix of Ayurvedic herbs, ginger and adaptogens. Use it to promote healthy digestion and also ease nerves.
Shore Magic collagen
Just two tablespoons a day of this collagen will improve your overall skin health. Yes, please.
We independently select and share the products we love—and may receive a commission if you choose to buy. You've got this.
Recipes, smoothies, nutrition, brandedsynacor2020, food